This page is the reservation request form for Kobe Steak Ishida, in Kobe, Japan.
For those desiring a reservation in Ishigaki, Okinawa at Teppanyki Steak Ishida or Sumi-Yakiniku Ishidaya Ishigaki
please click here for reservations.
I would like a reply in English.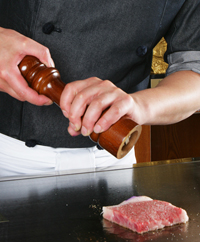 A request from the owner
At Kobe Steak Ishida, we provide customers with the highest quality Kobe beef and ingredients. All locations provide counter seating where guests can enjoy the same finest-quality Kobe beef and style of cooking, where expert chefs grill the meat to perfection right before guests. Please note that due to a high volume of reservations and limited seating availability, after receiving your request for a reservation, one of the locations will be selected for you based on availability where we can help you secure a reservation. We kindly request that customers secure a reservation by paying for their course with a credit card or PayPal before their reservation. We look forward to serving you at our restaurant, and making your time at our restaurant, a special one.